The votes are counted, the new city council is about to get to work, and we're putting a bow on our People's Agenda project.
We set out to cover Edmonton's 2021 municipal election in a way that was better than and different from traditional election coverage. We wanted to ground our stories in the issues that mattered to people, rather than the horse race or the sniping between candidates. We could see the value of approaching our election through the lens of The Citizens Agenda, which we explored in the summer of 2020 at a series of Election SOS training sessions.
We came out of that training with this vision:
Taproot Edmonton will build a robust, accurate, point-in-time summary of the key points on people's minds heading into the 2021 municipal election in Edmonton, tapping into the full diversity of our community. The People's Agenda will be shared publicly as widely as possible during and after the listening campaign and will shape Taproot Edmonton's coverage, grounding it in what people actually care about. The People's Agenda will help fulfill Taproot's mission to help our community understand itself better, in a way that is driven by curiosity and a desire to explain rather than to convince.
And we defined success like this:
The People's Agenda will reflect what Edmontonians want candidates to address, and Taproot Edmonton will be better connected to a broader, more diverse, and engaged community.
Our efforts would lead to 21,000+ responses from voters seeking to know which candidates best aligned with their values, and many comments like this:
That's just a tiny sample of the positive feedback we received. We did not imagine that this is where the People's Agenda would take us when we launched it. But we ended up in a very good place, with lessons we can apply to future efforts to listen and be useful to our community.
The winding path to better and different election coverage
So how did we get here anyway? Here are some of the high points of the timeline:
September 2020: We started with a question: "What key issue do you want the candidates to be talking about as they compete for your votes in the 2021 municipal election, and why?"
December 2020: We synthesized those responses into eight big questions that encapsulated the worries that seemed to be on participants' minds.
March and April 2021: We held eight online listening sessions dedicated to further understanding why these issues were important to people.
Summer 2021: Those sessions and the responses to our question led to stories such as a deeper look at the C5 North East Hub, an experiment that the next council will need to decide whether to keep funding, an explainer on carbon budgeting, and an exploration of what the City Plan means by "15-minute districts".
August 2021: The responses also formed the basis of a 30-question survey that we put to the candidates. We encouraged them to fill out the survey over the next several weeks, ending up with answers from 67 of the 85 people running for mayor and council.
Sept. 23-24: We opened the same survey to the public, soft-launching first to People's Agenda participants, then Taproot members, and finally to the wider public.
Sept. 30 to Oct. 15: The candidates' answers informed original stories on issues such as truth and reconciliation, public washrooms, arts funding, and the police budget.
Oct. 18: On Election Day, we published an analysis of the first 16,000 responses, which we were also able to integrate into our election site, with ward-by-ward breakdowns. The winning candidates' answers were accessible from our election results dashboard.
Oct. 19 and beyond: The day after the election, we pointed to the answers of the winning candidates (except for Karen Principe in tastawiyiniwak, who did not fill out our survey). These responses have continued to be part of election follow-up stories, such as this look at the downtown vibrancy strategy, and it informed some of the questions asked of the new mayor, Amarjeet Sohi, on Taproot's Speaking Municipally podcast.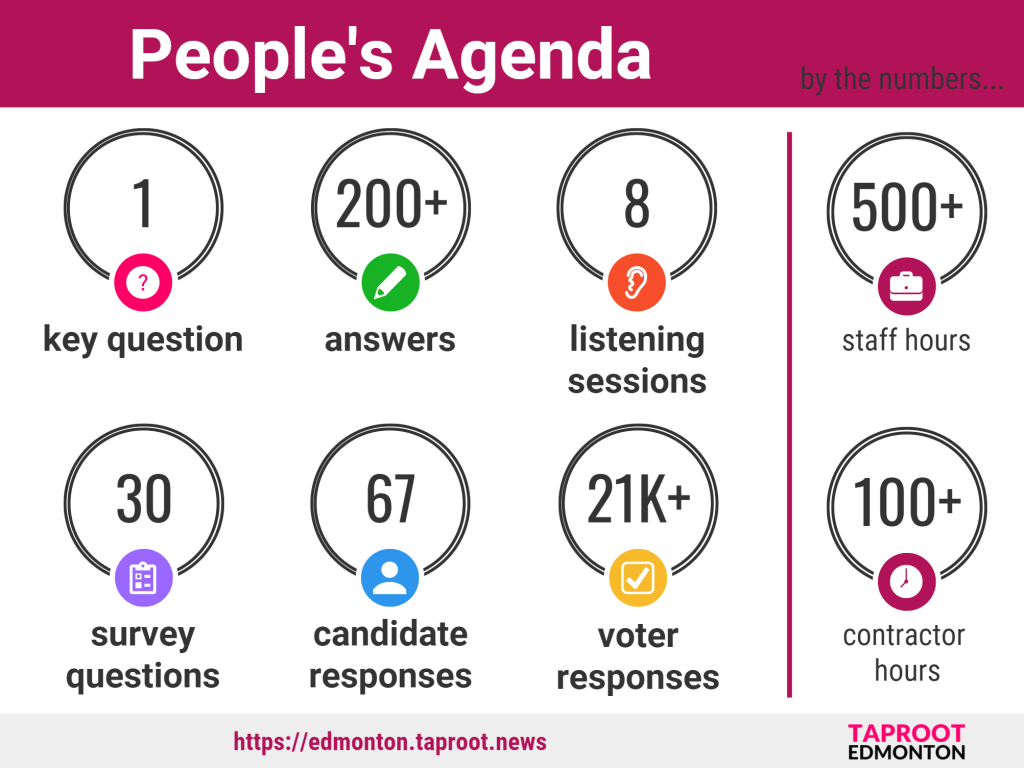 Lessons and challenges
This project took at least 500 hours of staff time and another 100+ hours from paid contributors, in addition to the time spent by steering committee members Elise Stolte and Rob Houle, as well as volunteer facilitators at our listening sessions.
It was at times overwhelming, but part of what made it so was not quite knowing where we were headed. There was a bit of wheel-spinning after our listening sessions, for example, when it wasn't at all clear what our tiny team was going to be able to do with all of this input. The breakthrough was coming across The City's Meet Your Mayor app, which inspired our own version.
It's also worth noting that our startup changed significantly during the course of this project. In the summer of 2020, when we started the Election SOS training, our journalistic output consisted of several weekly newsletters on specific topics, a weekly podcast, and semi-regular stories that we shared on social media but didn't have a very accessible home on our website.
In January 2021, we launched The Pulse, a weekday newsletter focused more generally on what goes on in our city. We had also revamped our home page to better display our journalism. That was vital to ensuring the project had impact. But The Pulse and the People's Agenda weren't as integrated as they could have been. Future engagement efforts will have to be fully part of what we do instead of happening in parallel as this project sometimes did.
While all of this was happening, we were also developing and delivering on the business-to-business product that helps to fund all of this work. That was vital, too, for while the project did sell some more memberships and increased our readership, which helps sell sponsorships and advertising, it did not pay for itself. Our model is such that the journalism is subsidized by the B2B side of our operation, and the growth we achieved earlier this year certainly made such an ambitious project possible. It would be fair to say, however, that the effort to bring the project to a strong conclusion ate into the time that we intended to put into business development in the last quarter.
We are coming out of this project with a reusable matching engine that we intend to employ not only for the next municipal election in 2025 but also in the interim, perhaps for elections at other levels or as a regular check-in on the current council. It may even be a product we could sell to others.
We have also developed a bit of a listening methodology that we'll be able to streamline for future elections as well as ongoing check-ins on what matters to our community and what people want to better understand. We're working on what that looks like. What we know for sure is that democracy is not just for election time, and neither is engaged, community-focused journalism. The People's Agenda has taught us a lot about that. We're eager to continue to apply those lessons as we go on.
What's next
We encourage you to subscribe to The Pulse. You'll receive our ongoing coverage of Edmonton and you'll be among the first to participate in any new engagement opportunities. If you'd like to help ensure this work remains free for everyone, become a member.
If you'd like to know more about how we inform and connect communities, get in touch. We'd love to serve your community through our B2B offerings.
Finally, if you run a digital news site, work in journalism, or simply have ideas for how to make use of our matching engine, we'd love to hear from you.
By the numbers
1 key question
204 answers
8 listening sessions
10 topics
30 survey questions
67 candidate responses
21,000+ voter responses
500+ hours of staff time
100+ hours of paid contributor time